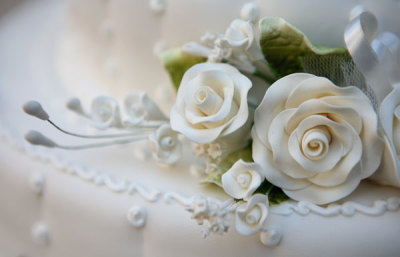 Testimonials for Rev. Christine:
I have a

5 STAR

rating with

Wedding Wire

and have​​
been received their 'Couples' Choice' Award for the past 5 years.
"Congratulations! You represent the top 5% of wedding professionals on WeddingWire. The Couples' Choice Awards® honor the exemplary work you've done over the past year and the highly regarded reputation you've established with your clients."
Please check out my reviews there.  (o: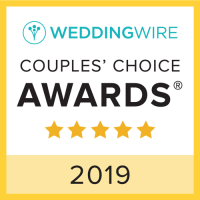 Here are some of the Testimonials I received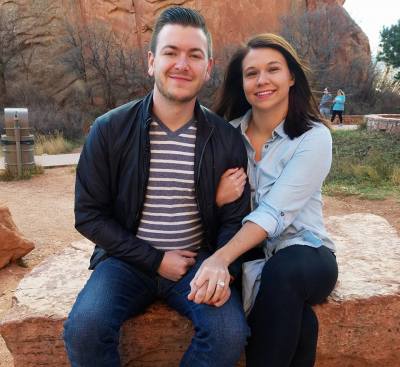 Shana & Bradley Faber  5/26/19
Christine was our officiant for our wedding off-site. She is truly AMAZING. The ability to customize your wedding ceremony to make it EXACTLY what you want it to be meant so much to me and my husband. We loved getting to put our own spin on it, while still having 
some guidance as to what it should include and how to word it. ​
Everyone commented on how beautiful our ceremony was. Christine was extremely kind, comforting, and helpful from our first phone call. She provided lots and lots of guidance on the legal part/marriage license process, which alleviated any possible confusion. I felt confident that she was available to answer any questions or concerns that I had. She is a lovely person, who radiates a warm, kind energy. I am so so grateful to her for helping to make our wedding day absolutely perfect.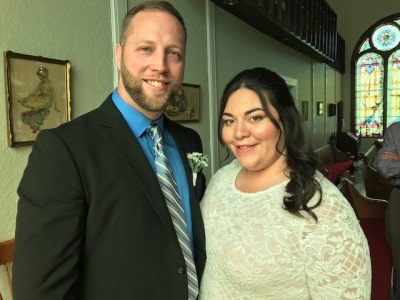 Anna & Aaron Brown  5/10/19
Christine makes the Experience!
We had a wonderful experience! We gave Christine less than a weeks notice and everything was perfect. Christine is very helpful, and really cares about your experience. I would recommend for anyone that wants an intimate setting.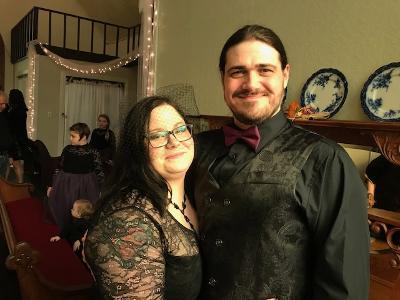 Kelsey & Keith Miller 10/28/18  
We had the pleasure of having our small ceremony at this beautiful chapel. We got endless compliments on how great of a place it was. Christine went above and beyond to make sure that this wedding happened exactly the way we wanted. We had the best wedding. Thank you!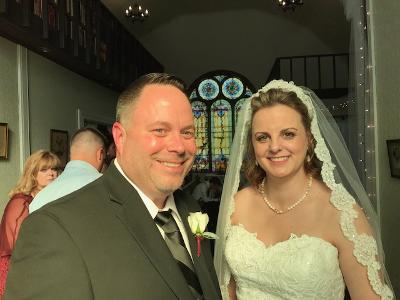 Holly & Joel Sutterfield  9/1/18  

IMPRESSED!!! Planning a wedding can be stressful, and for us, we were about an hour and a half away, so going to the chapel in person wasn't an option, and we planed a wedding in a week and a half. Christine was amazing. She took all the stress out of everything. She answed every question and keep all lines of communication open. That part right there was a breath of fresh air. When we arrived, she was ready, and just waited on us to get dressed. She conducted the ceremony with grace and didn't rush through it. She gave us the time and memory we waited for to become husband and wife. Thank you again Christine for making our day truly special.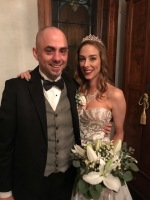 Justina & Thomas Jackson  2/14/18
Everything was absolutely perfect. Christine is so sweet and made the ceremony and marriage process so special. The chapel was beautiful and picturesque. The only thing prettier was my new bride.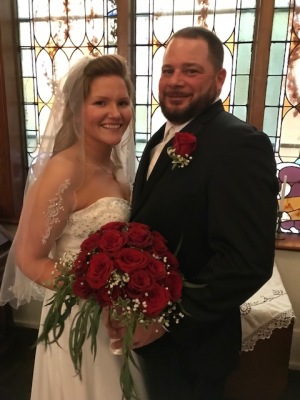 Autumn & Christopher Brown  2/2/18
I cannot speak enough of the help the Christine provided. There was such a lack of stress. She literally took care of everything. She was easily reachable, very reliable and organized as well as professional. Christine takes care of the music while also guiding the wedding party down the aisle. I planned my entire wedding stress-free in a weeks time. Christine will send you some info on what to do step by step via email. You just make your selections with music and vows based on what she sends you (or make up your own stuff) and she makes everything else happen. Prior to the wedding my husband started to become very nervous, called Christine with questions and she calmed him right down. On the day of my wedding, she helped alleviate many of my fears and anxieties. She did a perfect job marrying us. The entire wedding ceremony was beautiful and perfect. You cannot go wrong choosing Christine for your Wedding minister!
Stacy & Kevin Hill  11/11/17
"Our day was perfect! Short, sweet and simple just what we wanted! Christine was so wonderful! She was so easy going and even put up with our crazy family!!! Couldn't asked for anything better! Thank you Christine!"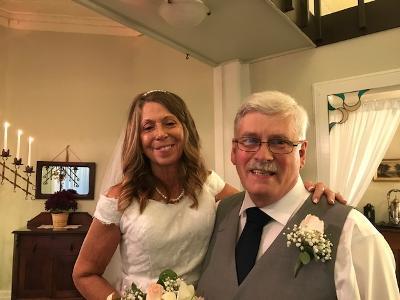 "This little chapel is vintage and lovely.  And Christine is charming and instantly makes you feel special. And we were very relaxed in knowing that our wedding would be perfect. And our wedding was just that! Perfect! Thank you Christine."
Allison & Adam DePoy  8/5/17

"Christine is probably the best hostess and reverend we could have asked for. She made the process super easy, all the way from the initial tour, til the very end at clean up. The chapel itself is stunning and leads to incredible photos in the natural light. Great prices, in an adorable town; Celebrations can't be beat! Thank you Christine for making our special day perfect!"


Rachael & Bill Burns  5/20/17

"Christine was a pleasure to work with, she helped our vision for our wedding come true! Our family loved the setting and the ceremony, it all felt so personal and unique. The chapel is gorgeous!"


Amanda & Chase Sari  4/1/17
"Christine was amazing and made our day everything we could have wanted. Even with us changing our date to a day earlier she never got frustrated. She's a sweetheart and only wants your day to be everything you imagined!"


Deborah & Allan Melnyk 12/28/16

"Our wedding was perfect thanks to Christine. The chapel was absolutely beautiful. Everything I imagined it to be. Beautiful stain glass windows, and Christine was so accommodating and made us & our guests feel very special & most welcome. It's a magical chapel and once you step in you feel so at home & I know I had a hard time leaving the church after the ceremony. It was the most memorable day of my life and I will cherish it always."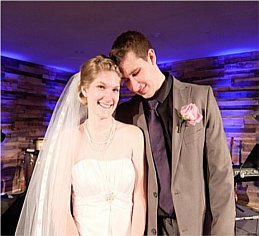 Kristina & Jacob Hinkle  8/20/16

"Christine is a wonderful woman! I would definitely recommend her to anyone! She's great at what she does and she'll let you do whatever makes you happy, that's what she's there for. My wedding was absolutely perfect and it would not have been possible without her! Thank you so much Christine, you're an amazing woman!"

​​

Stephanie & Lindsay Zook   7/9/16

"Rev. Christine was very willing to work with us, and was happy to marry two brides!!! We were happy to have her with us at our venue in Albion, MI. She spoke to us before we left for the ceremony, and as we stood with her moments before she began. She calmed our nerves, and made sure we knew our day was about us - not the others who sat in the audience. She was wonderful, and we wouldn't have wanted to have anyone else there with us!!! I highly recommend her for your ceremony!!! She is excellent!! :)"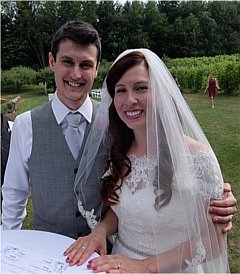 Angelica & Andrew Paniagua  7/9/16

My wife and I are so grateful that we chose Christine to be the officiant for our wedding. We were so pleased by Christine's professionalism and availability throughout the entire process. We were particularly appreciative of her attention to detail in her willingness to allow us to personalise anything we wanted and when she respectfully enquired about the correct pronunciation of names in our ceremony. Christine really helped guide us through our ceremony and it turned out better than we could have imagined. We highly recommend Christine!"



Chuck Rose & Patrick Grubba  6/3/16

"We are happy with the facility and service provide. The chapel is charming and Christine was very thoughtful and accommodating!  Her ceremony maker was great!!! Loved the stained glass windows and the colors that poured in. For a warm, intimate and charming location the Celebrations Wedding Chapel is the place to go."


Heather & Corey  7/4/15

Christine was an amazing reverend. She was so thoughtful and made this day that much easier. She was a  lovely person to meet and she greeted us with open arms and such amazingly nice compliments. The chapel is the cutest little chapel and gorgeous venue for having a small and intimate wedding. We were able to get great pictures for our big day. Corey and I couldn't have picked a cuter chapel for the small wedding we had! I definitely recommend this venue to any bride and groom that are looking for something small, sweet and intimate! (:"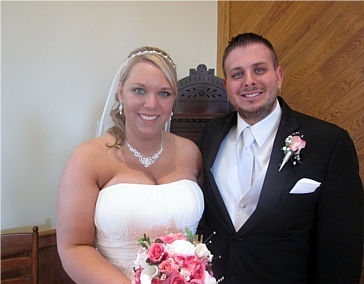 Tiffany & Randy Kretzinger  4/11/15

Christine was AMAZING! She is so sweet and SO helpful. We got to personalize out whole ceremony with her wedding builder. Everything went perfectly except we forgot the marriage license (oyyyyy!). She kept me calm and ensured me that it was not the end of the world and then she made herself available the following day to take the license to her to be signed. Also, she sent me all of the information on how to have my name changed once we were back from our honeymoon. Thank you Christine! You were great.



Jackie & George  Andrews  10/11/14

"This was the best day of my life. Christine was wonderful. I had a very small wedding and it was perfect in every way. The chapel is beautifully decorated for the season, Christine was always there for us and the vendors on her website were also great. I couldn't have asked for anything better. Christine always got right back to us when we had questions. Our ceremony included our children standing by our sides with them being included in vows. Absolutely perfect!" 


Melanie & Tom Shepherd  9/21/13

"Christine hit all the right notes in our wedding and my wife and I were over the moon, Not only would I recommend Christine, I would advocate it to any of my friends in Michigan and any that wouldn't mind flying her to their venue anywhere in the US. That is not hyperbole, she was prepared and a joy to be around on our special day."


Copyright © Your Day Your Way Celebrations 2020